Are You Experiencing A Denture Crisis? 
Do You Wish That You Could Eat Out In Public Again Without Feeling Self Conscious And Embarrassed?
If your answer to the question above is 'yes' and if you are ready to start eating out again with your friends, and if you want to feel good about yourself again, then we are ready to help you.
Not everyone will have problems with their dentures, but there are many of you that find them difficult to tolerate, struggle to eat and speak and above all else you find them embarrassing to wear. The result is you lose some of your self confidence and you stop doing things that you enjoy, such as eating in restaurants.
We are pleased to announce that there are a number of options open to you depending on whether you are missing several or all of your teeth.
In fact, you could actually take hold of the rest of your life with both hands to restore your diet and chew steak again, avoid embarrassing moments, achieve your desired Denture Success…and DISCOVER a new approach to comfortable – natural looking dentures you can live with for life.
And a New Guide just released –
'Amazing Facts About Fixing Your Denture Crisis'
For more information on our comfortable – natural looking dentures please give us a call or complete the form below to see if you are suitable.
Complete the form for Instant Access to this Guide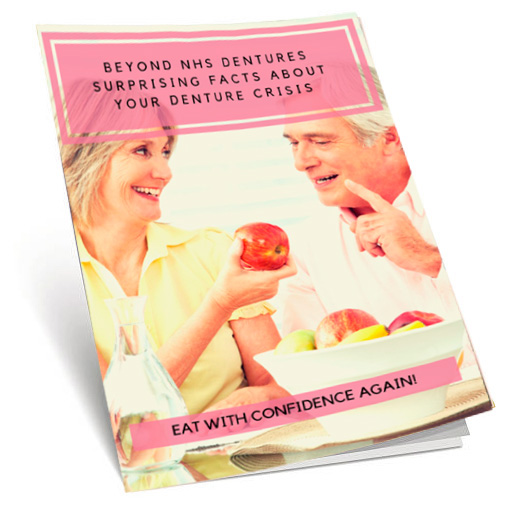 Your Kit Includes An Audio CD, Comfortable – Natural Looking Dentures Information Kit, a Denture Crisis Quiz, a Free 'Chew Steak Challenge' certificate, and a new guide just released Amazing Facts About Fixing Your Denture Crisis, and a VOUCHER for a FREE Denture Audit.