Dental Veneers
Cosmetic Dental Veneers to improve your smile by Dr Fatima Talhi
Are you looking for an alternative to improving your smile?
Do you worry about any of your oddly or misshapen teeth? 
Veneers could be the answer for you.
Veneers
Porcelain veneers help to improve your smile by covering misshapen or crooked teeth with very little preparation. A veneer is a thin slither of porcelain (glass) or plastic which is placed on the top of the tooth and acts very similar to false acrylic nails.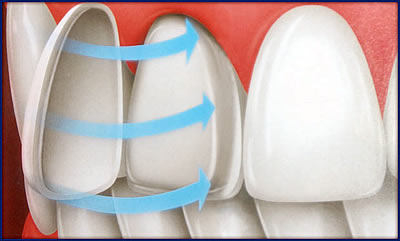 Veneers are strong, very long lasting and custom made. The colour can be matched to the exact shade you require for a straighter, whiter and brighter smile. veneers can be a simple alternative to brace work.
Should your front teeth have stains, chips, or be malaligned, veneers will give you a good realistic appearance with minimum tooth adjustment.