Dental Implants
Dental Implants at Lambourn
Let Me Ask You This…
Do you dread going out for meals?
Are you always the last to finish your plate of food?
Have you got gap/s and dread the thought of a dental plate?
Do you put your hand in front of your mouth when smiling, talking or being photographed?
Do you dream of chewing steak again?
Do you worry about your denture floating off while you're swimming?
Are you fed up of eating mushy food?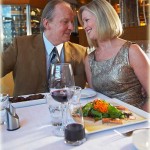 Dental Implants are a great way for you to fill unsightly gaps  and are a great and permanent alternative to partial dentures – without any of the clasps and metal work that comes with a partial denture.
They also help to prevent any further continuing bone loss which occurs when a tooth is removed.  With a dental implant you will be able to eat, drink laugh and smile with confidence (and the confidence that no one will know that the tooth isn't your own!)!
Having a dental implant to replace you missing tooth or teeth is becoming a very popular option for many people as they are a long term solution for that missing tooth as well as helping prevent bone loss.
What Is A Dental Implant? A dental implant is a replacement for the root part of your natural tooth and is fixed into a socket in your jaw-bone which will support a crown, bridge or secure a denture firmly in place. Implants are made from titanium, a material that integrates easily with bone tissue. 
We offer a FREE Smile Audit to find out how implants can change your life.
If  you wish to have a clinical consultation we can help to arrange this.
Please complete the form below for a Free Dental Implants Audit.
---
"The Very Best In Dental Treatment and Patient Care"
I can unreservedly recommend Fatima Talhi and her team at Lambourn Dental Practice to anyone looking for the very best in dental treatment and patient care.
I am absolutely delighted with my dental implant. It looks good and feels just like my own teeth. I felt relaxed about the treatment thanks to the support and reassurance offered by Fatima and Lucy. I was kept fully informed at all times and the various procedures were carried out both skilfully and gently so that I felt virtually no discomfort. My teeth look good and have given me more confidence in my appearance. Fatima and her team form a very special dental practice where the patient is absolutely put first.
Jean-Anne Schiff