Dental Hygiene
---
HEALTHY MOUTH AND
TEETH FOR LIFE PROGRAMME
Lambourn don't do hygiene. They are fanatical about a 'Healthy Mouth' and its links to a healthy body.
Added to that Fatima uses special software so she can give clients a health risk assessment. It's a traffic light system for gum disease, and decay, mouth cancer and teeth wear. Gum disease is a problem that does not cause pain in the beginning and it is traditionally the Cinderella sister in the NHS.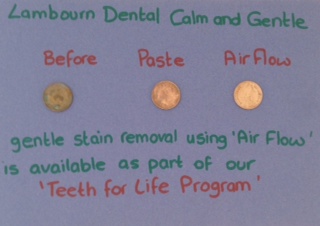 The Difference Air Flow Can Have On Your Teeth
Eight Tell Tale Signs for the 'Silent Disease'
Important Steps to Protect Women's Dental Health
Careful periodontal (gum) monitoring and excellent mouth hygiene is especially important for women.  You may be noticing changes in your mouth during times of hormonal fluctuation.
Eight Tell Tale Signs for the 'Silent Disease'
Bleeding gums during brushing
Red, swollen or tender gums
Gums that have pulled away from the teeth
Persistent bad breath
Pus between the teeth and gums
Loose or separating teeth
A change in the way your teeth fit together when you bite
A change in the fit of your dentures
To help ensure good mouth (and overall) health, be sure to:
See a dental professional for cleaning at least twice a year.
See your dentist if you notice problems with your gum tissue.
Please keep your dental professionals informed about any medications you are taking and any changes in your health history.
Brush and floss properly every day. Review your techniques with a dental professional.
What To Do Next If You Notice the Tell Tale Signs
Immediately book your "Silent Disease Detection Audit"
And Keep Your Smile For Life.
Fatima has also invested in a high powered microscope and demonstrates the plaque to clients. You can see the creatures that are causing the hassle and it motivates clients to say, "how can I get rid of that?" 
If you want your old ticker to continue ticking then the simple brushing technique is the best thing you can do for your heart, for your blood vessels so you can avoid Alzheimer's disease, strokes. Imagine avoiding all kinds of horrendous diseases with just two minutes of cleaning. 
That is really the main message, that is a very, very  important message because you can't actually move teeth, straighten them, whiten them, do anything on them if the foundation is dodgy.  That is how we use the gum care, it is the foundation.  You cannot build a multi-storey building on a dodgy foundation and that is your gum.